Our Story
How We Met
In September 2014, Sonali started working at BD, which coincidentally was Suraj's previous employer. Suraj's old coworkers invited him out to a happy hour, where he and Sonali met for the first time. The dinner and conversation went well, and when it was time to leave, both Suraj and Sonali exchanged phone numbers. When Suraj arrived home, he texted Sonali that it was nice to meet her, and hope she got home safely. However an hour went by with no response. When Suraj woke up Friday morning and there was still no response, he assumed to just let things be.
2 months later in November, Sonali and Suraj saw each other at another happy hour, not having spoken since that evening in September. The conversation flowed even better, and this time, when the evening ended, Sonali responded to Suraj's text :)
The Proposal (February 5, 2017)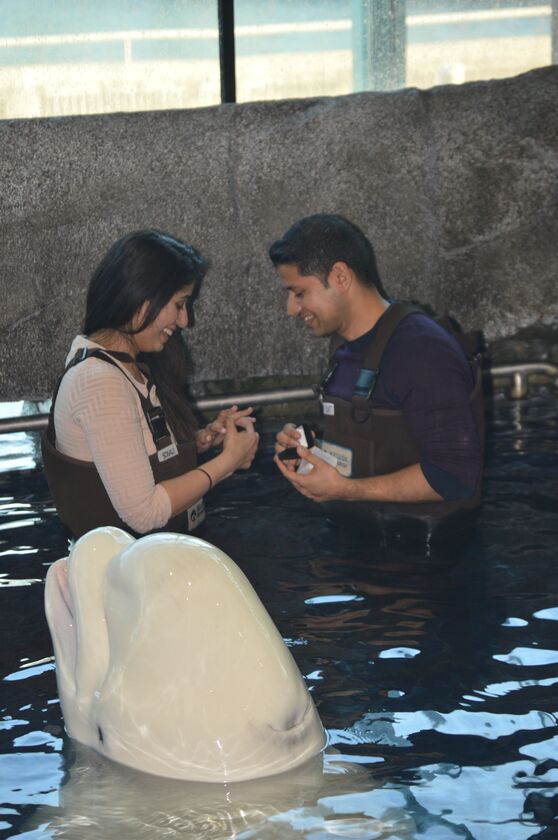 It was a typical Friday night for Sonali. She was ready for a nice evening of relaxation and catching up on some Netflix shows. Suddenly, to her delight, Suraj showed up and surprised her with a bouquet of roses and chocolates!
After a lovely weekend together, Suraj and Sonali found themselves at the Shedd Aquarium on Sunday afternoon. Once they viewed the dolphin show and the other displays, Suraj brought Sonali to the beluga whale exhibit. Sonali and Suraj spent time in the water playing with the whales and performing tricks. For the final trick, the whale swam to Suraj with a small box in its mouth. As Suraj opened the box and took the ring out, Sonali couldn't believe her eyes; was that what she thought it was? As Sonali stood in utter amazement, Suraj proposed to her right there in the water!
Sonali couldn't help but think that she may not have been swept off her feet, but she sure felt like she could walk on water!!
The Wedding
Saturday, April 7, 2018
9:15 AM
Ceremony
DoubleTree by Hilton Hotel Chicago - Oak Brook
1909 Spring Rd, Oak Brook, IL 60523
Other Events
Mehndi/Sangeet
Friday, April 6, 2018
6:00 PM
Ashyana Banquets
1620 75th St, Downers Grove, IL 60516
Reception
Saturday, April 7, 2018
6:30 PM
DoubleTree by Hilton Hotel Chicago - Oak Brook
1909 Spring Rd, Oak Brook, IL 60523